women's march in washington
Hundreds of thousands of women turned Washington's National Mall into a sea of pink on Saturday, sending the first concerted message of grassroots opposition to Donald Trump since he moved into the White House.
"Minority president", "Women roar" and "I'm afraid" were among the signs waved by a crowd which was made up mostly of women but also comprised some men and which far exceeded turnout for Friday's inauguration. Many wore pink hand knit "pussy hats" – a rebuke to the billionaire businessman once caught on tape bragging about his ability to "grab" women "by the pussy". Organizers estimated that more than a million people attended.
The Washington protest march was not the only one held in the US, however. From Atlanta to Phoenix, from Boston to Sacramento, "sister marches" staged a show of defiance by ordinary citizens determined to rebuke Trump's values. An estimated 175,000 took to the streets of Chicago, the adopted home of former president Barack Obama.
The large crowd sent a clear signal to a man notorious for his thin skin and prone to boasting about the size of his crowds.
"That's what you guys should be writing and covering instead of sowing division about tweets and false narratives," Spicer admonished the press. "The president is committed to unifying our country and that was the focus of his inaugural address. This kind of dishonesty in the media, the challenging the bringing our nation together, is making it more difficult."
The noise of popular protest and angry administration statements contrasted sharply with the solemn mood on Saturday morning at the Washington National Cathedral, where Trump, first lady Melania and other family members attended a multi-faith prayer service.
The new president then headed to the headquarters of the CIA in Langley, Virginia. He has been critical of America's intelligence agencies in a way that no incoming commander-in-chief has before, over their belief that Russia sought to influence the election on his behalf.
But he used Saturday's platform to promise the eradication of "evil" radical Islamic terrorism and lambast the "dishonest media" for its reporting of the size of his inauguration crowd. He made no mention of Saturday's massive protests.
It capped 36 hours that began with Trump's angry call to arms in a blistering inaugural address, an executive order on healthcare and a much-mocked dance with his wife to Frank Sinatra's My Way at an inaugural ball.
As the Obama era receded, Washington remained gripped by uncertainty. Trump's first week in office could lay siege to Obama's legacy on numerous fronts and set alarm bells ringing in foreign capitals.
When he meets May, trade in the post-Brexit era and the future of Nato, which Trump has questioned, are likely to be high on the agenda.
In Washington on Saturday, organizers of the women's march in Washington first estimated turnout at half a million, which would have been double the number that marched on the city for civil rights in 1963 and were addressed by Martin Luther King.
Such estimates only increased. Thousands came by bus, train and plane, cramming Washington's underground Metro to capacity. John Kerry, the former secretary of state, took to the streets along with his dog.
Trump's defeated election opponent, Hillary Clinton, was not present, but tweeted:
Thanks for standing, speaking & marching for our values @womensmarch. Important as ever, I truly believe we're always Stronger Together.
There were speeches by politicians and activists and performances from artists including Madonna. "The revolution starts here," the singer said. "The fight for the right to be free, to be who we are, to be equal.
"Let's march together through this darkness and with each step know that we are not afraid, that we are not alone, that we will not back down, that there is power in our unity and that no opposing force stands a chance in the face of true solidarity."
Actor and activist America Ferrera spoke about her background as a child of immigrants and argued that Trump was elected on a platform of hate.
"We are gathered here and across the country and around the world today to say: 'Mr Trump, we refuse," she said. "We won't build walls and we won't see the worst in each other."
Feminist Gloria Steinem said: "This is an outpouring of energy and true democracy that I have never seen in my very long life. It is wide in age, it is deep in diversity and remember the constitution does not begin with 'I the president', it begins with 'we the people'."
Film-maker Michael Moore said: "We're in day two now of the Trump tragedy. Who wants to be in my next movie? We are here to vow to end the Trump carnage. I want you to call Congress every single day. Moore called for change in the defeated political opposition to Trump. "We have to take over the Democratic Party," he said.
The scale of the crowd caught even organizers by surprise but thousands pressed ahead with the march while others headed home. There was a steady flow past the White House, where secret service officers stood guard. Pennsylvania Avenue was closed off by steel barriers.
Among the marchers was Kathleen Prugsawan, 52, from Washington. She said: "This is the most peaceful gathering of people unhappy with the current administration. The message that I hope he gets: you better fucking pay attention to us now."
Women and other groups were demonstrating in Atlanta, Boston, Denver, Los Angeles, Miami, Oakland and Seattle. Tens of thousands of New Yorkers marched as close as possible to Trump Tower in midtown Manhattan.
There were protests across the world. Organizers in London said 80,000 had taken part in an event there. In Prague, hundreds gathered in Wenceslas Square, waving portraits of Trump and Russian president Vladimir Putin and holding banners that read "This is just the beginning", "Kindness" and "Love".
On Friday, Trump was sworn in and delivered a dark speech that differed little from his campaign rhetoric, vowing to stop "American carnage" in an address widely condemned as divisive. The former TV celebrity raised a clenched fist and eviscerated members of the political establishment gathered around him on the steps of the US Capitol.
"From this day forward, a new vision will govern our land," he said. "From this moment on, it's going to be only America first."
There was an instant overhaul of the White House website, with Obama administration priorities such as climate change and LGBT rights abruptly disappearing.
Protesters set fires and hurled bricks in a series of clashes that led to more than 200 arrests. Police used pepper spray and stun grenades to prevent the violence from spilling into Trump's formal procession and evening balls. Police said six officers suffered minor injuries.
After an inaugural parade where he faced boos and heckling from protesters, Trump settled into the Oval Office. He sat at its famous desk as he signed the order that chief of staff Reince Priebus said was aimed at "minimising the economic burden" of the Affordable Care Act. The order notes that Trump intended to seek the "prompt repeal" of the law.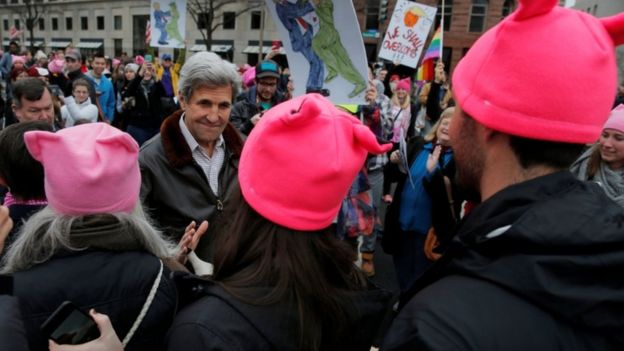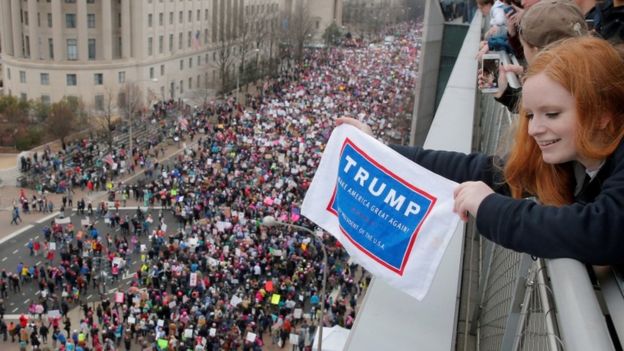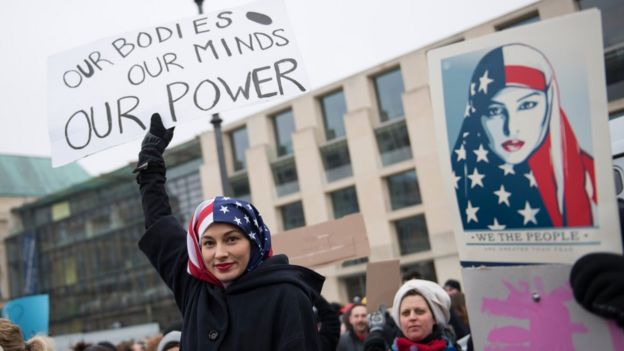 Source: theguardian